MIDLAND AREA WELLBEING COALITION
Members: 33
Groups: 3
Experiences: 60
Our MISSION is to support wellbeing: feeling good, struggling well, and functioning effectively as individuals, groups, and communities. Visit midlandareawellbeing.org for more information. We also encourage you to check out experiences in this community!
Community Information
Get on our mailing list to learn about more opportunities to engage and support your wellbeing!
Visit our website: www.midlandareawellbeing.org

MIDLAND AREA WELLBEING COALITION
TOGETHER. FORWARD. BOLD. AN EXCEPTIONAL PLACE WHERE EVERYONE THRIVES.
The Midland Area Wellbeing Coalition is a group of over 135 members of the Midland Community who are working to help Midland achieve its vision: Together. Forward. Bold. An exceptional place where everyone thrives. Our coalition's specific vision is that Midland is a healthy com-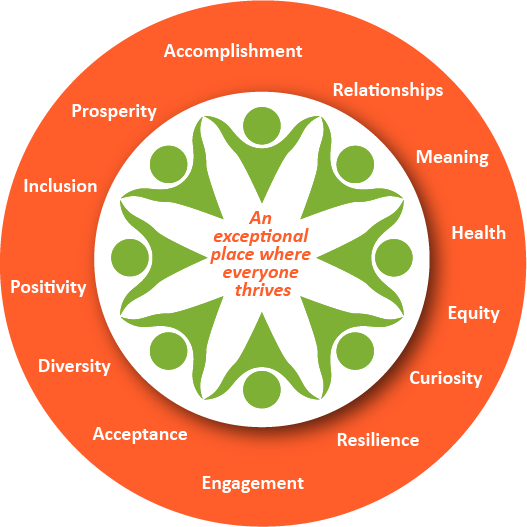 munity where everyone belongs, feels safe, and thrives. All stakeholders invest in creating wellbeing and work together to become a recognized community where all citizens are flourishing in measurable and visible ways. This legacy of caring has been passed down to us and we commit to ca
rrying it forward. When we share a common language, we create connectivity to our work and wellbeing at all levels: individual, organizational, and community. The collective sum of our work is far more impactful than our individual work. Our plan is to connect all wellbeing initiatives and programs with a shared "hub" model. As all initiatives, workplaces, and groups align to a "hub", we work to sustain wellbeing across all sectors of the community.
The Midland Area Wellbeing Coalition is supported by the Community Success Panel. The coordinator is Kathy Snyder and the leadership team consists of Maureen Donker (Midland Mayor & Councilman Ward 2), Bridgette Gransden (Administrator/Controller for the County of Midland) , Holly Miller (Executive Director of United Way of Midland County), Sharon Mortensen (Executive Director of Midland Area Community Foundation), and Beverlee Wenzel (Executive Director of The ROCK Center for Youth Development). Email info@midlandareawellbeing.org if you are interested in joining the coalition. We are stronger together!
Community Leader
Kathy Snyder
Community Admin
Kate Gallihugh
33 members in the Community
2 Convene Private Memberships
2 Convene Premier Memberships
---